Instant payments
Open Banking as a service
Payments
We are on a mission to remove the pain from payments. Comma is the UK's first native open banking bulk payments system. Until now, paying business expenses such as payroll, bills, invoices and taxes has been a chore for business owners. Most small business have little process around making payments, and hardly any of them have access to corporate banking systems. Traditionally, this means they are left to key in bill payments and salaries manually into their bank. The process involves searching around for bank details, amounts, then copy / pasting or re-keying them into their bank account. As it's mostly the owner or the senior manager that has access to the bank account, it's often their time that is wasted making payments which should be used adding value to their business. Comma has created a new, simple, innovative process allowing users to bulk pay bills and salaries in a fraction of the time through the power of open banking. The user links their clients accounting system to Comma and they are able to instantly create payment runs using existing invoices. These payment runs can then be paid, in bulk, using existing business bank accounts at the click of a button.
Latest news from Commazero
Yapily rolls out bulk payments service with Comma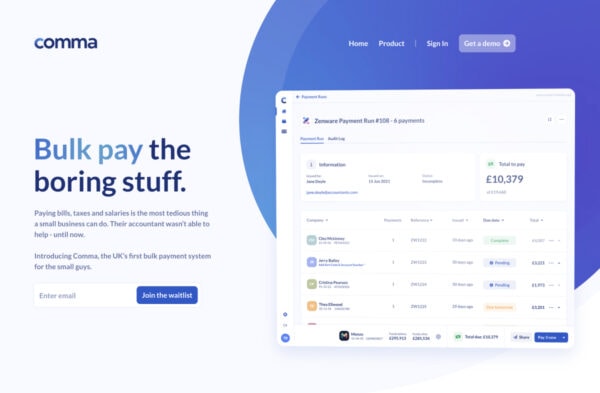 Open Banking infrastructure provider Yapily has launched its bulk payments service with SME payments platform Comma in the UK, with plans to roll it out into Europe.
Yapily, working in partnership with Comma, has simplified the bulk payments process under Open Banking in the UK, having previously only been available to medium to large-scale businesses that have corporate banking accounts.
Its proposition provides customers with the API connection needed to create a secure and scalable bulk payments feature for their clients.
This means that Yapily is the first Open Banking infrastructure provider to test and release bulk payments functionality for seven financial institutions in the UK.
The company has confirmed it intends to roll out its bulk payments service to customers in Germany in the coming months, as it looks to power new bulk payments propositions with more European customers.
By using Yapily's bulk payment offering, Comma's accountant and bookkeeper customers can create
Read more...
How Comma works in 60 seconds