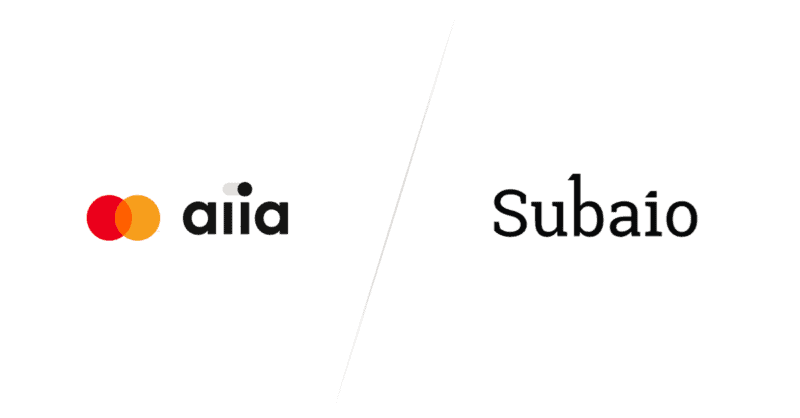 Subaio picks Aiia to automate creditworthiness assessment for financial institutions
Subaio has announced today it chose European Open Banking leader, Aiia, a Mastercard company, to enable a smarter way for assessing creditworthiness. With access to Open Banking, Subaio's new white label offering will help banks, leasing companies and other financial institutions assess consumers' creditworthiness automatically.
The traditional credit scoring industry has been associated with long and costly manual processes that have left room for human error. The collaboration will accelerate creditworthiness assessment by combining the access to financial data from Aiia with Subaio's existing recurring payments detection, building a white label solution that will remove the headache for financial institutions.  
"To create automation and a product that works for solid credit scoring across industries, we need as solid and deep quality of data as possible to label the transactions and categorise them afterwards," said Subaio's chief commercial officer, Soren Nielsen. "We've known for a long time that Aiia has always focused on data depth and quality. That's why we chose Aiia to help us bring this next exciting step in the Subaio journey up to speed."
The increasing demand for better creditworthiness assessments is reflected in the EU's revised Consumer Credit Directive which came into effect in 2021. It was introduced to reduce the number of non-performing loans by ensuring that financial players identify and document customers' income and recurring expenses before offering a loan.
Subaio's new white label solution can be used with any aggregator and has already gained traction with big financial players in Northern Europe due to the increasing demand of better creditworthiness assessment.
Commenting on the collaboration, Aiia's SMB and fintech director Tanya Slavova said, "We're looking forward to supporting Subaio on their journey to build a smarter creditworthiness assessment tool that can be implemented in multiple lending cases ranging from banking to leasing companies and more. With our high quality, this Open Banking empowerment will grant borrowers better loan assessments based on the accurate overview of the consumer's actual financial situation."
Subaio began its scaling journey through the Mastercard Start Path programme. The product is now being used by multiple institutions with a full roll-out expected in the first quarter of 2022.