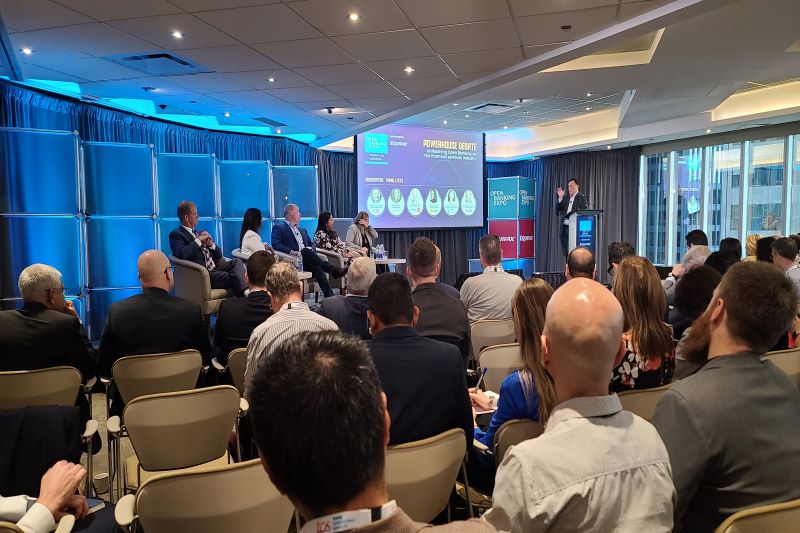 Canada set for 'pivotal year' as read-only Open Banking model due in 2023
Next year will be "pivotal" for Canada, which has moved away from discussing the "benefits" of Open Banking to talking about how it will be implemented, according to speakers on the Powerhouse Panel debate at Open Banking Expo Canada 2022.
The panel, which was moderated by Roy Kao, practice lead, financial services innovation at CGI and a board member of Open Finance Network Canada, followed the opening keynote delivered by Abraham Tachjian, Canada's Open Banking lead on the main stage.
In his introduction to the panel, Kao said: "Open Banking, as a concept and as a reality, is ready for its time in the Canadian limelight."
He was joined on stage for the debate titled 'Unleashing Open Banking on the financial services industry' at the Expo in Toronto on 17 November by Sarah Gowdy, vice president, Open Banking at Tangerine Bank.
Gowdy said Tachjian's update on the implementation and delivery of Open Banking revealed that Canada has "moved away" from discussing the benefits, to "how are we going to implement and move".
Kao told delegates he believed 2023 would be a "pivotal" year for Open Banking in Canada after Tachjian promised the launch of a "made-in-Canada read-only model" next year.
Speaking at the first in-person Canada Expo since 2019, Christopher Sweetland, senior vice president, payments strategy and transformation at CIBC, highlighted the importance of consumer confidence, and added that if Canada keeps "client experience paramount", it can "do [Open Banking] better than other countries".
Also on the panel was Hugh McKee, head of BMO Partners at BMO Financial Group and Saba Shariff, head of new product development and innovation at Symcor.
Shariff said the working groups convened by Tachjian had made "progress in such a short time" .
McKee added that "consumer confidence in the system is high", but noted that Open Banking will only be successful "if everyone is participating".
When asked by Kao which areas of banking and payments need modernisation, Mahima Poddar, group head of personal banking at EQ Bank, told delegates that payments initiation required modernising, on the basis it "takes one to three days to transfer money domestically".
She also called on Canada's Department of Finance to deliver "firmer mandates" on Open Banking.
In his keynote, Tachjian confirmed that the Open Banking working groups he formed had "already covered a lot of ground", with "zones of clear consensus among stakeholders".