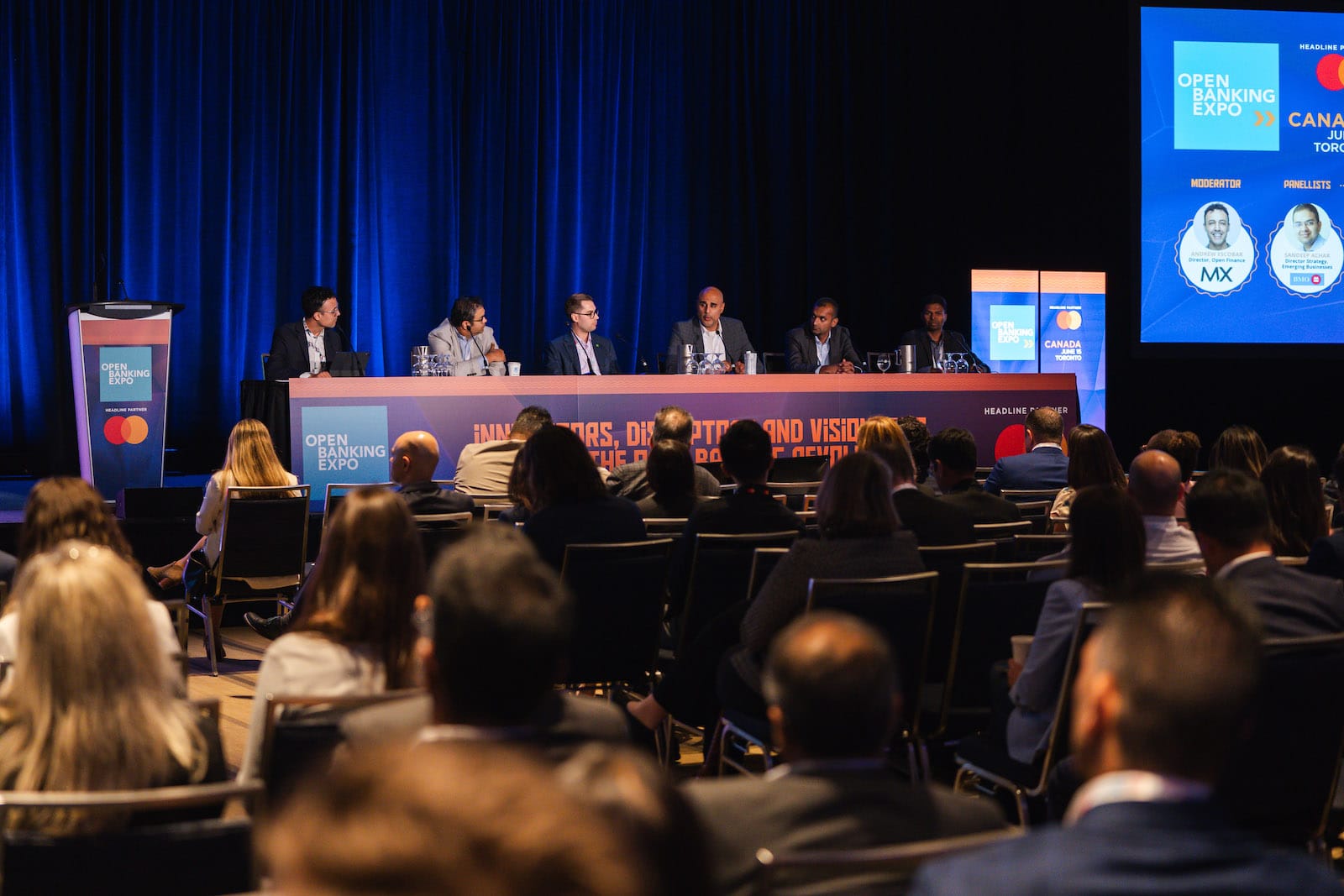 Canada's biggest banks reveal how they are preparing for Open Banking
Canada's largest banks struck an optimistic note about the "current state of play" of Open Banking in the country and vocalised their broad support for a "made in Canada" approach at Open Banking Expo Canada.
Andrew Escobar, director, Open Finance at MX who moderated the Bank Powerhouse Debate, opened the discussion telling attendees that "it's not every day that you get to have representatives from each of Canada's five largest banks" all together.
He said: "Let's start with where we are today. I'm curious to hear how you see the current state of play of Open Banking and Open Finance in the Canadian market.
"Maybe you can tell us how each of you and your banks are preparing for Open Banking. And what areas of focus are important to you and the teams that you each lead."
Sandeep Achar, director strategy, emerging businesses at BMO Financial Group, said the bank is "actively working on both data out and data in" and noted that progress had been made, both in terms of infrastructure and commercialisation.
He added that BMO is looking beyond the launch of an official Open Banking framework.
"The way I look at it, the initial part post-launch, there will be a lot of focus on getting infrastructure in place. I would say at the beginning more towards acquisition rather than share of wallet, that's the energy I see – not just with us, but other players," he explained.
He was joined on the panel, titled 'The future of banking in Canada: An insider's perspective on Open Banking', by Robert Miller, AVP, Open Banking at TD Bank and Pesh Patel, CIBC's VP commerce solutions and Open Banking.
TD's Miller said: "I would start with the fact that TD is strongly supportive of Canada moving towards an Open Banking framework and helping Canadians through Open Banking. Over the past several months we've been working with the Federal Government and many stakeholders on the implementation."
He added: "At TD, we've established our API connections in the US, so that's live, and we're actively building in Canada. All goes well, we hope to have something as early as the end of the year.
"I'm quite optimistic that we will start to see a live Open Banking system in Canada very soon."
RBC's Shekher Puri, VP digital components and platforms, noted that the bank is "pushing forward a made-in-Canada hybrid solution".
"I know there's been a lot of talk around some slowdowns with regard to the government and from a regulation perspective," Puri said. "That's not slowing us down, so we continue to move forward in regard to a lot of the development work that we're doing, whether it's building out our APIs, data orchestration, our consent modules – we continue to push ahead."
He cited the strategic partnerships RBC has signed "with a couple of the largest aggregators in North America".
Patel revealed that CIBC had focused on "collaboration and experimentation" over the past 12 to 18 months.
"We work in partnership and collaboration with banks in the UK, banks in Australia, to a slightly lesser extent with partners in India and Brazil, and also with some fintechs and smaller organisations that participate in different ways in Open Banking ecosystems around the world," he explained.
"As part of that, there's been a lot of fruitful discussions about how we can participate more proactively in an Open Banking environment for the benefit of our customers."
In terms of experimentation, Patel said CIBC started to "build and test different ways in which we think we can build data more effectively, ways in which we can publish it, ways we can consume it".
"You could argue that we've done all that we can do now and we're at a bit of a crossroads, where either we need to plough ahead and finish the job ahead of the regulation, or we need to wait for regulation to come in," Patel added.
The speaker line-up was completed by Karnan Ariaratnam, strategy, digital and portfolio execution, financial services at Tangerine.
"From a data in perspective, this is where we are a little different and unique because we are representing both Tangerine and Scotiabank. On one side, we are having good conversations with clients on, what are the use cases that we want to enable? How do we go about doing that? And why we need to do this today," he said.
"On the Tangerine side, we are leveraging test and learn. We have a couple of use cases today that we are testing and learning while we are waiting for Open Banking to come into play. We are building capabilities in a way that can be scaled outside of Open Banking as well."