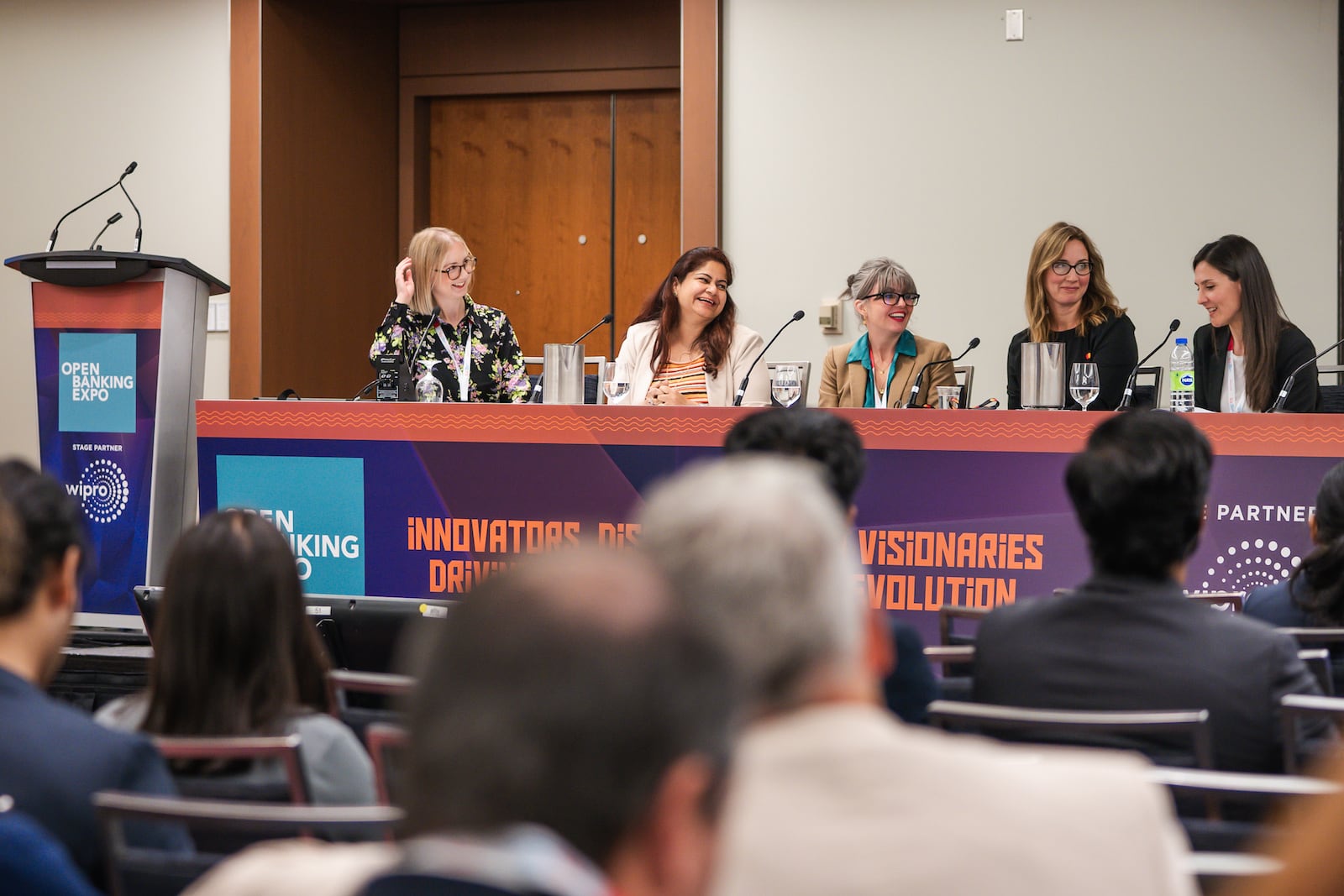 Women in Open Banking panel at Canada Expo welcome progress and celebrate diverse leadership styles
During a Women in Open Banking panel session at Open Banking Expo Canada, female speakers representing Mastercard, CIBC, National Bank of Canada, Symcor and League Data discussed female representation in the industry and revealed the impact on levels of financial inclusion.
Asked about the progress being made in Canada in terms of women being the primary earners and decision-makers, there was broad agreement that while this is going in the right direction, more work needs to be done.
Shruti Awasthi, director, Open Banking strategy at CIBC, referred to data from Statistics Canada that women now represent 45% of the country's labour workforce, "which is a great sign, from 35% just a couple of decades back".
"We have 35% of women representing various stages of leadership," she added, noting that while Canada is on a "growth trajectory", it is not exactly where it should be.
Saba Shariff, chief strategy, product and innovation officer at Symcor, told delegates that women account for just 17% of primary breadwinners in Canada, adding that "a large driver of that is the opportunities that are afforded women", as well as the hourly gender pay gap.
Shariff revealed that since 1998, the gap between women's and men's hourly earnings has only fallen 5 percentage points.
"In decades, we've made very little progress on a gap that shouldn't even exist, there should be no disparity and yet there is, and it stagnates. To the point of primary breadwinner, I think there's work that can be done," she said.
Krista Broughton, director, Open Banking at Mastercard in Canada, followed with a statistic from a report by The Globe and Mail on gender diversity, revealing that just 6.6% of publicly traded Canadian companies have women at the helm.
"To me, that indicates there's still more room to grow," Broughton said.
She recalled a conversation "with a woman who leads a very large company in Canada" who, when she looked across her senior exec team, "said we're coming near to gender parity but if you look at the functional roles, most of the women who hold these seats are in support functions, they're not driving growth".
National Bank of Canada's Open Banking business lead Natacha Boudrias and Carrie Forbes, League Data chief executive officer, also took part in the Women in Open Banking panel at the one-day event in Toronto.
"Women in Open Banking and diversity is not just about gender, it's also about diversity of leadership style," Boudrias said.
Further on in the discussion, Boudrias added: "Women have carved out a nice space in Open Banking in Canada and I truly believe it's by design."
Financial inclusion in Canada
The panellists were also asked about the importance of having women represented at all levels in Open Banking in order to expand financial access to Canadians.
Forbes replied: "I talk about how credit unions are often the ear to the ground, and often the person we're hearing from are women. Women are the ones doing a lot of the household budgeting, a lot of the transactions."
She called for diverse voices "at the table" to ensure a dialogue is maintained.
CIBC's Awasthi noted that "when we talk about Open Banking" it is trust that "comes to mind".
"How, as a woman leader, can I infuse trust in the whole consumer journey? By making consent language simpler for any woman to understand, by simply designing the consent process to be very intuitive, so that anyone who is not that digitally literate can also utilise the benefits of Open Banking without having to fully understand how APIs work… there's a lot that we can do as leaders, we just need to have the right lens and metrics."
Mastercard's Broughton moderated the first panel debate of the Canada Expo, in which Symcor's Shariff also participated.
Find out more about the Women in Open Banking initiative, in association with American Express, and register your interest to join here.