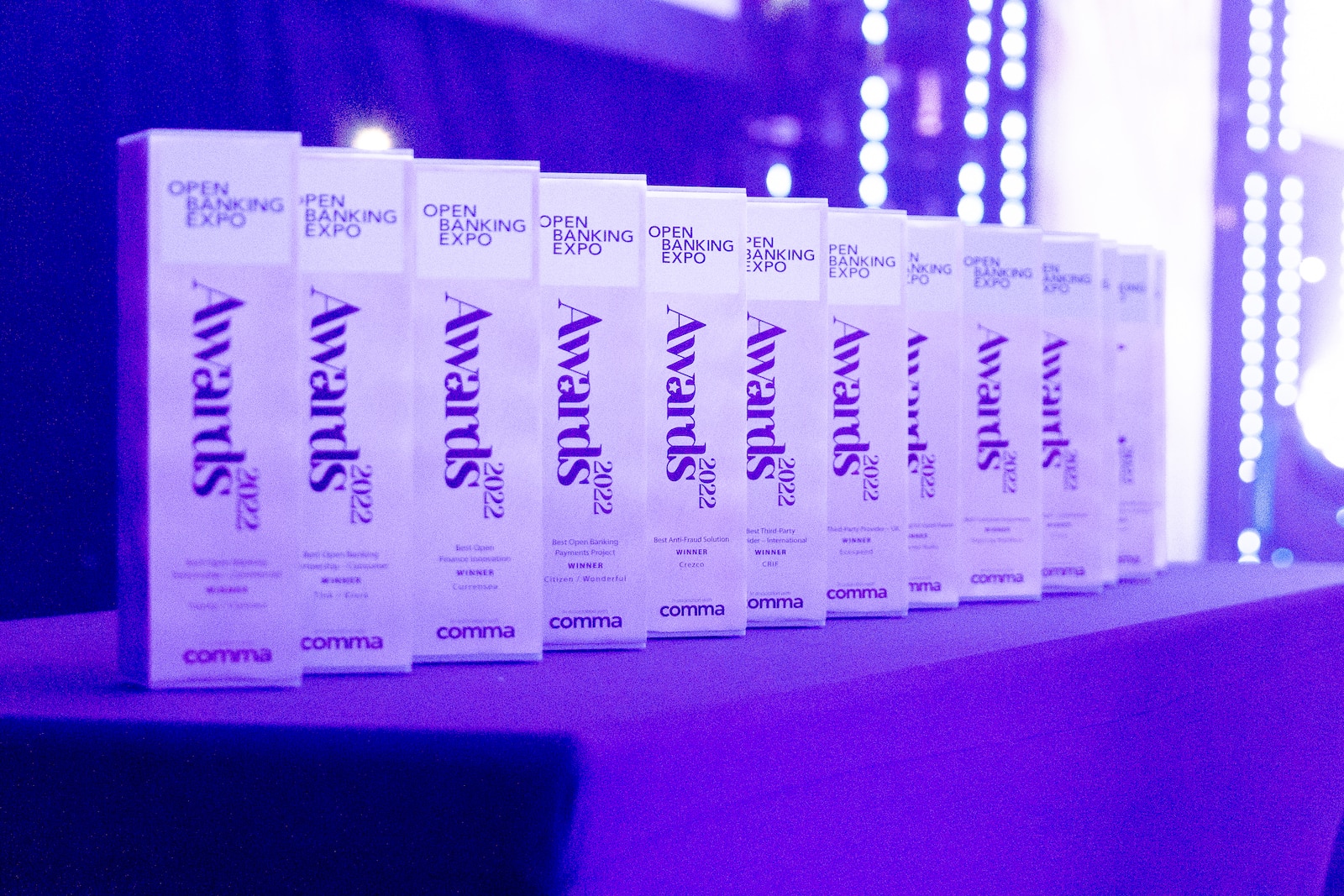 Open Banking Expo Awards 2023 shortlist revealed
Open Banking Expo is pleased to reveal the companies, partnerships and individuals that have been shortlisted in this year's Open Banking Expo Awards.
In total, Open Banking Expo received 95 entries across 15 categories, with 66 companies making it onto the final shortlist, which can be viewed in full here.
Shortlisted companies will be in with a chance of winning across categories including Best Open Banking Data Project, Best Open Banking Payments Project, Best Open Finance Application and Best App.
There are three new categories in this year's Awards: Women in Open Banking Rising Star of the Year and Woman of the Year – International and UK.
This year, there is no shortlist for the Pioneer Award Individual and Organisation categories, as the respective winners will be decided by the judges.
David Beardmore, ecosystems development director at Raidiam and one of the Open Banking Expo Awards shortlisting judges, said: "I've been hugely impressed by the quantity and quality of this year's entries. And whilst there are many familiar names, I've been delighted to read entries from less well-known organisations, and to see how they are using Open Banking to power their propositions.
"I've been struck by two key features of this year's submissions. Firstly, the sheer number of international entries, which is a significant shift since last year's awards. Secondly, the number and high calibre of entries that have come from women – to the extent that we decided to split one of the "Women in Open Banking" categories into two to separately cover UK and International applicants. This has been an celebrated development and shows that there is growing diversity in our industry.
"I'm delighted that today's publication of shortlist highlights once again the innovation, creativity and hard work of so many people working to make Open Banking / Open Finance a reality, not just in the UK but across the world. These shortlists are a celebration in themselves of all that's great about our industry. I'm now looking forward to working with our judging panel who have the unenviable task of selecting the award winners, and then to celebrating their success at the ceremony on 19 October."
The Awards ceremony is at the Business Design Centre in London, and will be a more informal event to encourage networking, higher attendance and, ultimately, to celebrate the successes of our finalists and winners.
More than 400 of the industry's brightest and best are expected to gather to celebrate the innovators, disruptors and visionaries from around the world – those banks, fintechs, organisations and individuals who are considered to be at the forefront of the Open Banking, Open Payments and Open Finance revolution.
Kelly Stanley, co-founder of Open Banking Expo and fellow shortlisting judge, commented: "We have been blown away by the quality of submissions this year, with entries spanning the UK and Europe, Canada, and the LatAm regions. We can't wait to welcome the industry to London on 19 October as we celebrate the advancements and innovation across the Open Banking, Open Finance and Open Payments ecosystem. Open Banking has the ability to positively impact the consumers and businesses it serves, and it shone through in the submissions. Thank you to everyone who entered! The judges have a difficult job ahead!"
Standing and seated tickets for the Awards ceremony can be purchased here.
To find out more about the 2023 Awards and judges, click here.