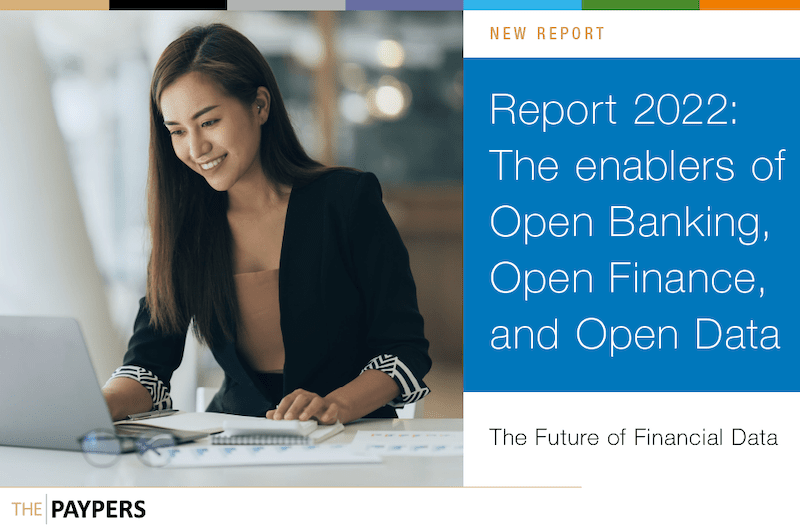 The Paypers releases 'Enablers of Open Banking, Open Finance, and Open Data Report 2022'
Abraham Tichjian, Canada's Open Banking lead, Charlotte Crosswell, chair trustee of the UK's Open Banking Implementation Entity and key players such as Powens, Moneyhub, Klarna Kosma, Nordigen and the Financial Data Exchange all feature in the latest report published by The Paypers.
The sixth edition of 'The Enablers of Open Banking, Open Finance, and Open Data Report 2022' – of which Open Banking Expo is a key media partner – provides an overview of the current state of development in the global Open Banking and Open Finance industries.
The report seeks to identify the key components that enable open ecosystems to grow and generate value; how open ecosystems are distributing value among stakeholders, consumers, and businesses; the new business models and the value realised; and the opportunities to collaborate, cooperate, and co-create to benefit all ecosystem participants.
In the section of the report titled 'The Ever-Evolving Global Landscape', are interviews with Tichjian and Crosswell, while PwC's Serena Sebastiani shares her main takeaways regarding Open Banking in the GCC region and Nedbank and Open Banking Nigeria reveal the latest  strides taken by Africa in harnessing the potential of Open Banking.
Also in the report are insights from Amex, Banked, Brite, Plaid, LUXHUB, Token, Celent, Worldline, and Zimpler on account-to-account (A2A), variable recurring payments (VRPs), real-time payments, and the future of Open Banking payments in general.
In the report foreword, Oana Ifrim, lead editor at The Paypers, said: "Many countries around the world are actively developing regimes to make it easier for customers to take control of their data and share it with providers of their choosing, including banks, insurers, and wealth and asset managers.
"By extending the use of data beyond traditional payment accounts to include savings, investments, pensions, credit, insurance or mortgages, the potential value to customers is exponentially increased."
She added: "Like Open Banking, Open Finance is not an end but a new step in the Open Banking journey. It will bring us closer to Open Data, which considers how consumer data can be used to develop new solutions, products, and services that cut across industries."
The report also features a company profiles section, designed to provide readers with a thorough overview of the different products and services offered by each company featured.
To download and read the report in full, click here.