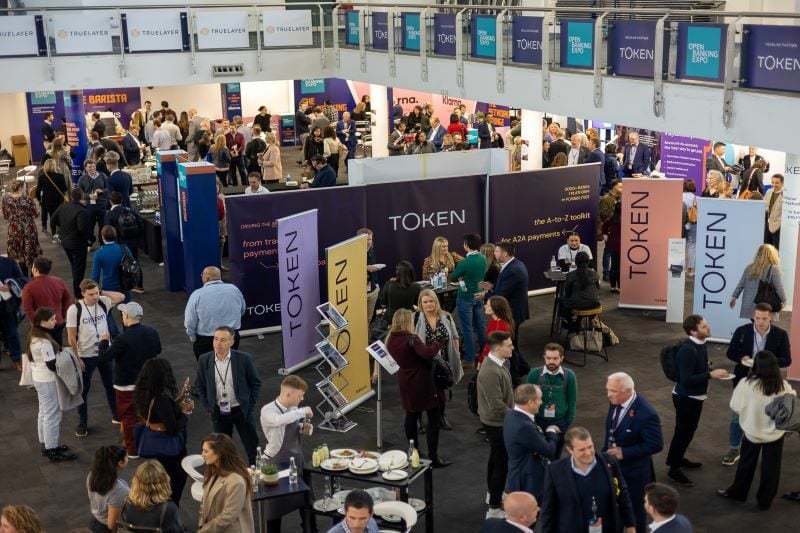 Token confirmed as headline partner of Open Banking Expo UK for 2022 and 2023
Token, a leading global Open Banking payments platform, has confirmed its support as headline partner of Open Banking Expo's flagship event in the UK this year.
This is the second year in a row that Token will headline the industry's biggest event, the UK Confex, having supported the first in-person gathering in over 18 months last year.
Token will also be the headline sponsor for Open Banking Expo's Europe 2022 and UK 2023 events.
Todd Clyde, CEO of Token, said: "As Open Banking enters its fifth year of life, Open Banking Expo continues to drive growth for the Open Banking ecosystem in the UK, Europe and further afield. That is why Token is excited to renew our support of Open Banking Expo Europe and Open Banking Expo UK — the largest events of their kind — this year and into the next.
"As Open Banking fundamentally changes the payments landscape, account-to-account payments topped last year's agenda. We look forward to bringing the Open Banking and Open Finance communities together again to drive new conversations and opportunities around the explosive growth of Open Banking payments in 2022."
Perfect partner
Token, an Open Banking platform on a mission to drive the shift from traditional payment methods to account-to-account bank payments, as well as a toolkit trusted by banks, PSPs, acquirers and merchants to deliver the broadest European connectivity and cutting edge Open Banking capabilities, is the perfect partner for the event.
"We are delighted to extend our partnership with Token this year," said Adam Cox, CEO and co-founder of Open Banking Expo. "As our headline partner not only for 2022, but also for 2023, this two-year partnership speaks volumes about Token's commitment to seeing Open Banking, and Open Banking payments in particular, fulfill its potential in the UK, Europe and beyond.
"Furthermore, our global ecosystem expects us to bring together the very best innovators and trailblazers in the business and working with Token enables us to go a long way in delivering on this promise."
Open Banking Expo has become the pre-eminent global community of Open Banking and Open Finance executives responsible for digital transformation across financial services.
The 2021 UK Expo brought together over 80 international speakers and more than 500 delegates across four stages in London. 2022 will see Open Banking Expo return to mainland Europe and Canada, along with further regional launches as Open Banking, Open Finance and Open Banking Payments continue to shake-up and revolutionise the way businesses, and society more broadly, manage and interact with financial services products.
In this insight article, Supercharging consumer adoption of Open Banking payments, Token's Tim Corke writes about why payments are firmly on the agenda this year.